These are a few special products that we look forward to providing our customers every year!
Turtlettes are a perennial favorite of Heggy's customers - make sure you keep them on-hand for the holidays!
Almond Bark!  
A wonderful mix of Almonds and Chocolate - We didn't invent it but we perfected it.
Special Gift Items!  
Sometimes, what we can offer can become the perfect gift!
---
Your Favorite Items!
Don't worry: We love them too.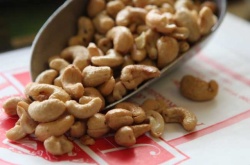 Whole Cashews
These colossal high grade whole cashews imported from India are roasted to perfection in pure peanut oil. When this fresh, whole cashews maintain their natural sweetness. You will certainly taste the difference from mass produced canned varieties. We offer these in sealed bags, gift boxes and tins. For maximum enjoyment, we suggest they be consumed within a few weeks or they can be frozen when properly vacuum sealed. They are also available unsalted and raw.
Choose options
Fancy Mix
The classic Heggy's mix served up for over 60 years is a blend of whole cashews, pecans, almonds, brazils, and filberts, roasted to perfection, with salt or without. Perfect for any gathering.
Choose options