Your cart is empty.
You can fix that!
After a brief absence, Heggy's Chocolate Turtlettes are back!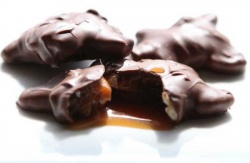 Heggy's Chocolate Turtlettes
Ben Heggy's Turtlettes are the finest piece made. Fresh pecans together with rich cream based caramel and covered completely with a silk milk chocolate. Way better than any other chocolate turtles. Seasonally available in Gift Bags with decorative patterns!
Choose options
With Eater just a little over a month away, we have your needs. With different size varities of solid milk chocolate bunnies & soon we will have our decadent fudge filled eggs that we only have one time a year and let us tell you that they are absolutely amazing.

Our website continues to feature $10 flat rate ground shipping, and In-Store pick-up is a convenience we hope all of our on-line customers will continue to use and enjoy. We at Heggy's Nut Shop wish you all a safe and Happy New Year!
Join the Heggy's Mailing List
for monthly offers, discounts and coupons on new products and old favorites!