Your cart is empty.
You can fix that!
We understand that you are dissappointed to see that we are unable to offer a selection of chocolate candy this year. The orders for milk chocolates placed with Ben Heggy Candy Co. in August have gone mostly unfilled due to supply shortages and as a result, our chocolate candy supply is too limited to offer individually. We will not accept orders for product that we may not be able to deliver by Christmas.
So that as many customers can enjoy their holiday gifts as possible, we are offering mixed chocolate and fresh roasted nut gift options only. The chocolates will be predominantly dark (semi-sweet) chocolates and caramels. We truely apologize for your inconvenience and will try to get back to normal with all of your favorite pieces in 2022. -Heggy's Nut Shop
Heggy's Chocolate Turtlettes!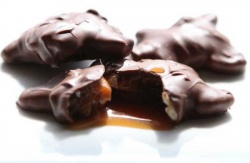 Heggy's Chocolate Turtlettes
Ben Heggy's Turtlettes are the finest piece made. Fresh pecans together with rich cream based caramel and covered completely with a silk milk chocolate. Way better than any other chocolate turtles. Seasonally available in Gift Bags with decorative patterns!
Choose options
Join the Heggy's Mailing List
for monthly offers, discounts and coupons on new products and old favorites!