Your cart is empty.
You can fix that!
Heggy's Chocolate Turtlettes!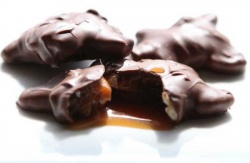 Heggy's Chocolate Turtlettes
Ben Heggy's Turtlettes are the finest piece made. Fresh pecans together with rich cream based caramel and covered completely with a silk milk chocolate. Way better than any other chocolate turtles. Seasonally available in Gift Bags with decorative patterns!
Choose options
Join the Heggy's Mailing List
for monthly offers, discounts and coupons on new products and old favorites!