Your cart is empty.
You can fix that!
After a brief absence, Heggy's Chocolate Turtlettes are back!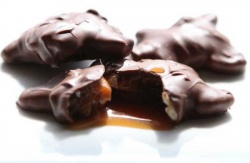 Heggy's Chocolate Turtlettes
Ben Heggy's Turtlettes are the finest piece made. Fresh pecans together with rich cream based caramel and covered completely with a silk milk chocolate. Way better than any other chocolate turtles. Seasonally available in Gift Bags with decorative patterns!
Choose options
The pandemic cannot stop people from loving one another so this Valentine's Day will mean more than most to us all. Check back later this week for a look at the cool gift packaging for our delicious chocolate and nuts. We're going to keep it simple so the quality and freshness are tops.

Our website continues to feature $10 flat rate ground shipping, and In-Store pick-up is a convenience we hope all of our on-line customers will continue to use and enjoy.  We at Heggy's Nut Shop wish you all a safe and Happy New Year!
Join the Heggy's Mailing List
for monthly offers, discounts and coupons on new products and old favorites!